Description
THIS VEHICLE IS EXPECTED TO BE IN STOCK BY April 23, 2019
**************************************************************************************
1993 Honda Accord, 4 cylinder, Automatic, and 24,609 low, low, miles. 
Imported from Japan-factory right hand drive.  
Warranty Available for Any Vehicle we sell
Remember we take any trade!!
Features
Kilometers    39,691                 Miles   24,609
Body Style     4-DR                    Fuel  Gas
Drive Type     FWD                     Stock #3132
Engine            2200 cc               Transmission Automatic
Common Features 
Air conditioning
AM/FM radio Tape
Dome and or Cargo Light
Fresh Oil Change
Freshly Detailed
Right Hand Drive
ROPS/Standard Safety Belts.
Side Door Impact Bars
Sport Bucket Seats
Stainless Steel Exhaust
MacPherson Struts-Front
Power Door Locks
Power Retractable Mirrors
Power Steering
Front Wheel Drive
Tilt Wheel
Intermittent Wipers
Tachometer
Temperature control
Trip Computer
Emergency Flashers
Floor Covering
12 Volt Power Outlet
Dealer Added Options for Your RLRHD Vehicle
Add 1, 3, 12, or 24 month warranty
AM/FM/CD US Frequency Stereo with dual door or dash speakers
AM/FM US Frequency Stereo with media port and dual door or dash speakers
Rustproofing
What makes a Road Legal Right Hand Drive Vehicle?
The Road Legal Right Hand Drive Vehicle or RLRHD for short, are vehicles that are old enough to be exempt from EPA and Federal Motor Vehicle Safety Standards. These vehicles are legal to drive wherever motor vehicles are permitted. They still have standard safety belts, head-rests, reinforced doors, DOT safety glass, and roll-over protection, but they do not have over 100 sensors that are required on new vehicles.
What documents should you get with a Road Legal Right Hand vehicle purchase?
RLRHD vehicles are sold with a Michigan title, invoice and odometer certification statement along with the purchase agreement that shows all of the features of your vehicle. If you live in a state that does not have a sales tax we will not charge you for it.
Sales taxes can be confusing, but I will tell you, you will only pay tax if your state assesses one and you will not pay a penny more than whatever your state assesses for the sales tax. If you pay any part to the State of Michigan it becomes a credit that you use to offset dollar for dollar any amount owed in your state.
My state allows a credit for a trade-in. Do you?
Yes, we allow the same credit against your sales tax due as your home state. You pay or don't pay whatever sales tax is in effect in your home state.
What guarantees do I get if I buy from your company?
We inspect everything from the top to the bottom starting from when we buy it.  Any used vehicle purchased from us will be freshly serviced with new oil and filter, air filter, brakes if they are 1/3 worn, tires same, belts hoses, plugs, we make sure you do not have to do anything to a vehicle you purchase from us.  If something comes up that we miss, please call us and let us know.
Checking volts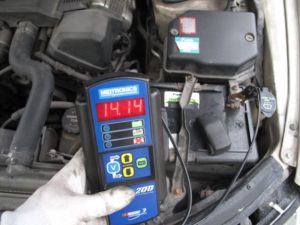 Checking oil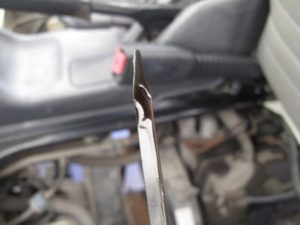 Rear brakes-cylinder replaced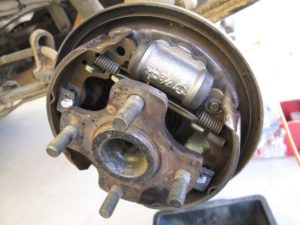 Checking CV axles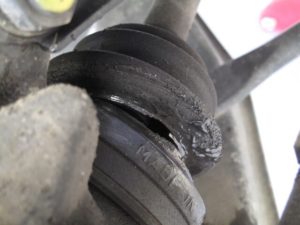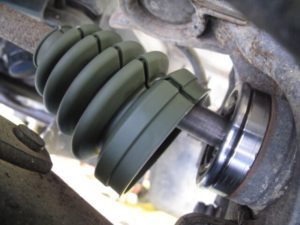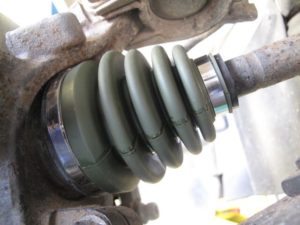 Check filters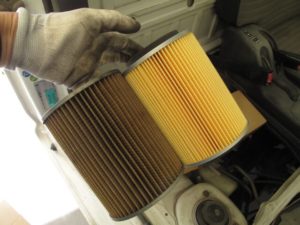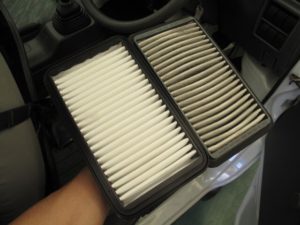 How much does it cost to ship to me?
We ship any vehicle to your dock or door for $494.  Alaska and Hawaii are a bit more.
Can I fly in and pick it up myself?
Absolutely, we will pick you up at the Detroit Metro Airport and drive you to our place about one hour away. Please let us know what time to be there so you are not waiting long.
How can you find good condition, low mileage cars in Japan?
Well, we look at about 150 to 200 cars for every one car we buy, so we are fairly picky.  In Japan the roads are all in good condition, but driving a car is expensive.  Highways have electronic tolls and just parking is expensive so you find some families need a car for crucial moments of their week, and other times they use the trains to get where they are going.  This means there are a few cars that are used regularly but rarely.
The train and train system in Japan is really amazing.  The track ties are cement so they do not need to be replaced and the tracks are welded together so you do not hear a clack-it-tee-clack as the wheels move over the seam.  They are almost always on time, quiet and air conditioned.
The cars found in the families that use them every once in a while are in exceptional shape.  We find cars 25 years old without a spot of rust.  This means they can be used easily another ten years.
What if I need parts down the road?
No trouble at all, we stock most parts, but if we do not have it in stock then it is only 10-14 days away.
What are some of the main advantages of buying Road Legal R-H-D vehicle?
One of the largest advantages is the driver's door opens to the sidewalk side of the road. You will not have to get out or get back into the vehicle through traffic. If you have ever delivered mail you can appreciate having a vehicle that is a factory Right Hand Drive vehicle. These RLRHD vehicles are also equipped with standard comfort features such as AC and heat. When you get it from us any necessary service has already been done and all you do is put it to work. All of our right hand drive vehicles are factory right hand drive.
Factory right hand drive means the vehicle was manufactured with the steering wheel on the right hand side.  It is not a right hand drive unit that uses a conversion process with belts and pulleys and other added levers.  It is exactly the same as a standard left hand side unit except the steering wheel is on the right side.
Why should I buy from you instead of just buying right from Japan myself?
Like anything, it depends on whether you are pitching or catching.  You can buy from any number of people who import to the US.  That is the easy part.  The hardest part is, if they miss something before it gets to you.  Do you have any recourse against someone that is thousands of miles away? Or on the flip side of that, why would they work hard to keep you as a customer when you are going to buy one car every ten years.  Typically, once your transaction is processed, you are pretty much done.  I have met many good people from faraway places and I have also met a few criminals.  The criminals don't tell you upfront they are going to stiff you on your shipment, they wait until you figure it out yourself.  Usually you do not meet the person who is handling your transaction and many times you do not even speak to them.  Your communication may simply be a series of Emails that concludes with you getting or not getting what you paid for.
I would say there are a million ways to lose the profit we add to our products when you decide to do it yourself.  For example, you can lose it by paying too much for the product.  I used to think, before I became an auto dealer, that there is no way you could pay too much for the product because you are bidding against another dealer that certainly will not pay too much.  Now I know some dealers reading this are already laughing and chuckling to themselves.  The reality is, you may be bidding on the car that is owned by the dealer bidding against you.  He may be buried in the product and if you do not know what to pay, you will pay too much.  If your bidding is done in person, you will find the other dealers can sniff out a new guy from a mile away and will spare no expense to teach you a lesson on how to buy.
You can lose our profit markup by buying a product that is not a good product.  Easily this is the most common way to step on your . . . . toe.  Actually, it is the worse way too.  If you get a good product and you pay too much, you still have a good product.  If you pay too much and you do not end up with a good product you get a double whammy and you have nowhere to go with the product.  No one wants a bad product, you will be lucky to give it to someone.
Another way some people fail to see the forest for the trees.  They may spend countless unpaid hours researching and become very confident in their results and all the while they do not realize the internet gives them plenty of information, but no knowledge.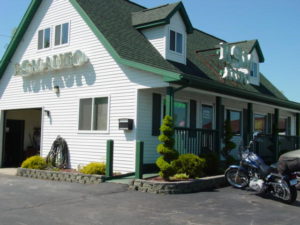 How fast will these vehicles go?
They are not governed for speed so the standard automobiles will travel as fast as you dare.
Why should I buy one instead of buying a standard left hand drive vehicle?
Most people considering a right hand drive vehicle are choosing one because they have some sort of delivery or repair service. Perhaps they deliver mail, which is impossible to do as easily in a left-hand-drive vehicle. They may do parking enforcement or read water or utility meters, or deliver newspapers.
People also buy RHD vehicles because often they can get a lower price and accumulated mileage for the same type vehicle. They also know once you have driven a right hand drive vehicle for a few weeks you really don't think of being on the wrong side, but rather on the right side.
Why you should consider buying your vehicle from us?
RSM & Associates Co is an established commercial operation with a solid history of honorable public dealings.  We are open six days a week since May of 1990.  We are a licensed and bonded new and used vehicle dealership in the Great State of Michigan. RSM & Associates is authorized and capable of initiating and closing all titled transactions needed for your purchase.
We completely understand that buying over the Internet from someone you don't know can sometimes seem scary, but the benefits are many.  First, we provide a two year power-train warranty on all vehicles four or less years old and a warranty is available for all vehicles we sell.  Second, we have sold thousands of vehicles and have had only a handful of complaints.  Third, we can service anything we sell and we freshly service all used vehicles before they are sold.  Lastly, we are among the longest serving business selling and importing new and used vehicles from Japan since January of 2006.
RSM values and appreciates our customers, and we do everything we can to create a positive buying experience.  Our photo gallery shows some of the vehicles we have built for our customers. We will be adding some customer sent images soon.  We are the only dealer in the nation that provides an owner's manual written in English for all of new vehicles.  We also provide nationwide (no AK or HI) delivery for $494.
At RSM, our extensive product knowledge and selection gives you a wide choice of vehicles to fit your needs.  Our customers know they are making a wise purchase decision when buying from us.  Our customers also know we do not sell marginal vehicles and that they receive only the best quality product.
Thank you for considering RSM & Associates Co. for your Road Legal Right Hand Drive needs.